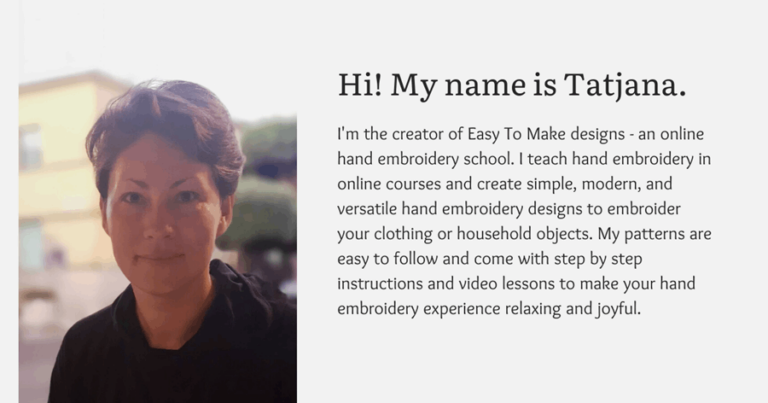 Since I was a little girl, I created something – a knitted scarf for my favorite Teddy Bear, a dress for a doll, or embroidered pillow for the dollhouse. Later I started making clothes for myself, quilted pictures for the walls of our house, and rugs for the bathroom. My teachers were my mother and my grandmother. They had the patience and the will to teach me everything they knew about handicrafts and hand embroidery. Later, studies and work took me far away from crafting.
After my daughter was born, I restarted textile arts and crafts – dresses for my baby girl, hand-embroidered Advent calendar, soft toys, knitted and crocheted clothes, embroidered pictures for her room… and since then, textile arts and crafts are always in my life.
My life has recently changed 180 degrees – I moved to live from Lithuania to Italy. Instead of being a busy businesswoman, I became a stay-at-home wife and mom.
This significant change gave me the possibility to do what I like the most – create!
Why hand embroidery?
I feel more confident after my studies at the Fashion Academy Roma (Istituto Moda Sgrigna – Accademia di Moda Roma). Now I know that I have the experience needed and formal education in textile arts. While embroidering more and more, I found that hand embroidery is a very relaxing craft with many benefits for our mental health and wellbeing. And while practicing for the school and creating, I've accumulated tons of information and experience that I would like to share.
I hope that this Blog will inspire You to create with your own hands, needle, and thread and that it will become the place you go to when you don't know how to do something or feel a lack of inspiration.
About Easy To Make designs
Easy To Make designs is a blog and an online hand embroidery school. I create simple, modern, and versatile hand embroidery designs. Also, offer hand embroidery patterns with step-by-step instructions and video lessons that will make your hand embroidery experience relaxing and joyful.
What will you find on this Blog?
Once or twice a month, I write an article about hand embroidery tools and techniques or share some tips and tricks. Also, create tutorials on embroidery and fabric crafts. New articles will appear in the main feed. You will find older articles scrolling down the page or with the help of the Search field. 
Blog. You will find all my blog posts divided by categories here.
Shop. Hand embroidery pdf patterns and all the embroidered goods that I sell are in this shop. Also, You will find all the online embroidery courses that I offer and links to them on this page.
Video tutorials of hand embroidery stitches. You will find information about hand embroidery stitches and video tutorials to show you how to embroider these stitches here. The stitches are grouped by the purpose (outline stitches, decorative stitches, filling stitches, etc.) Also, you will find an alphabetic list of hand embroidery stitches.
Easy To Make designs on social
Find me on social media channels or Sign up for my newsletter and be the first to know about new articles and tutorials on the Blog!
More information
Contact. If you want to contact me, please fill in the contact form, and I'll answer your question asap. 
Privacy Policy. You can read the privacy policy of this Blog here.
Shop policies. Find more information about the shipping, payments, delivery times, and packaging here.
Terms of use. All the information about the terms of use of this Site is placed here.