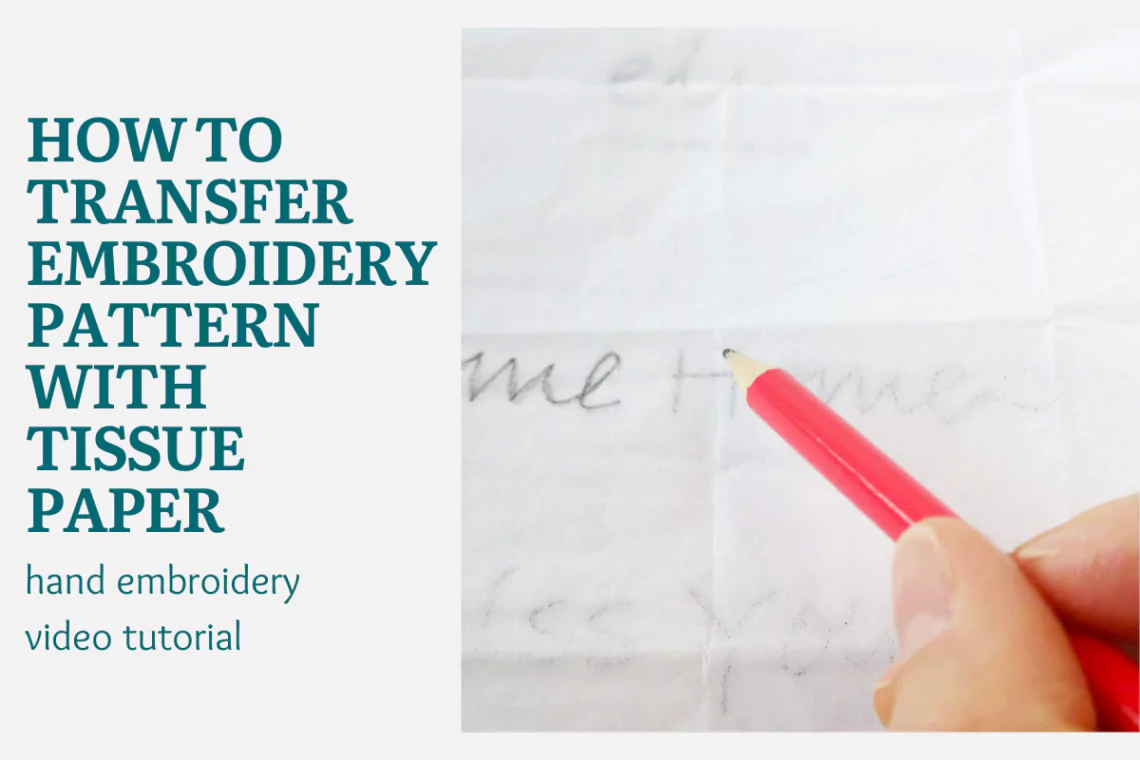 How to transfer pattern with tissue paper
Embroidery pattern transfer with tissue paper method
If you want to transfer your embroidery design to a dark fabric or very dense fabric like felt, you might find this pattern transfer method very useful.
You will need a piece of tissue paper (paper napkin will do well), your pattern, and a pen.
Separate one layer of the paper, place it over the printed design and transfer the pattern to the paper.
Place a tissue paper with a pattern over the fabric and frame them together into the hoop. Embroider over the paper.
After all of the embroidery is done – gently tear off the paper!
Watch the video below and learn how to transfer embroidery patterns with this simple and fast pattern transfer method!
Want to see pattern transfer with tissue paper method in action? Watch 'Valentine's day DIY gift tutorial. Embroidered Keyring' video tutorial where I use tissue paper for pattern transfer.
You can also download a Free pdf pattern if you would like to make this keyring.
Are you looking for some other hand embroidery stitch or tip tutorial? Check out my Blog's tab Video tutorials or my YouTube channel and learn!
I add new video tutorials to my channel every week. To get notified when a new video goes live, subscribe to my YouTube channel and click on the bell right beside the button.
Or sign up for my newsletter and be the first to know when I release a new hand embroidery video, DIY tutorial, or blog post!
Valentine's day embroidery design. Free pdf pattern and keychain making tutorial
This year I created a new Valentine's day embroidery design. You can use these designs on a napkin, pillowcase, kitchen towel, or make a keychain, as I did in this tutorial.
You will find a Tutorial HERE
The FREE pattern download link is HERE
Full video tutorial on  YouTube channel is available HERE