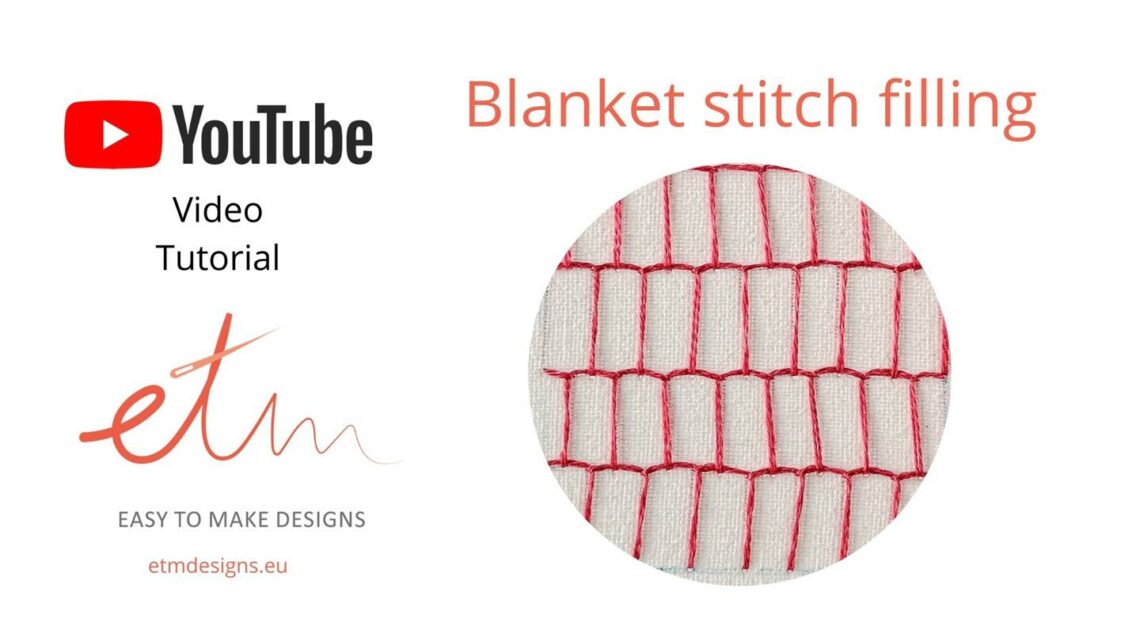 Blanket stitch filling video tutorial
The blanket stitch also called buttonhole stitch, began as a way to finish the edges of blankets and other things like tea towels and pillowcases. Now it's used to finish an edge, attach an appliqué or as a decorative stitch all on its own. There are a lot of ways to use this stitch as a decorative stitch – from flowers and leaves to filling and outlining. The advantage of the blanket stitch is that it gives you an outline on one side which can make the design stand out. You can make this stitch as dense as you want: from net-like big squares up to so dense, that it looks almost like satin stitches.
Want to learn hand embroidery stitches with my embroidery tutorial?  Check out my YouTube channel or go to Video tutorials and choose the stitch you want to learn. 
Interested to learn more filling stitches? Read the article "Hand embroidery Filling stitches – part 1" in my blog.
Looking for some other hand embroidery stitch tutorial? Check out my Blog's tab Video tutorials or my YouTube channel and learn!
Looking for a project where you could use the Blanket stitch filling?
Small Christmas Tree with Snowflakes hand embroidery PDF pattern
☆13-page PDF pattern and embroidery instructions with full-size printable stitching pattern, Color guide, Stitch guide, Instructions for finishing the hoop and more.
☆ Extra lesson – How to make a greetings card from your embroidery
☆ The pattern is written in English
Christmas tree decorated with sequins hand embroidery PDF pattern
☆ 9-page PDF pattern and embroidery instructions include Full size printable pattern, Stitching guide, DMC Color guide, Material list, Instructions for transferring pattern, Instructions for finishing your hoop
☆ The pattern is written in English
☆ The size of the finished hoop – 7 inches / 17 cm.