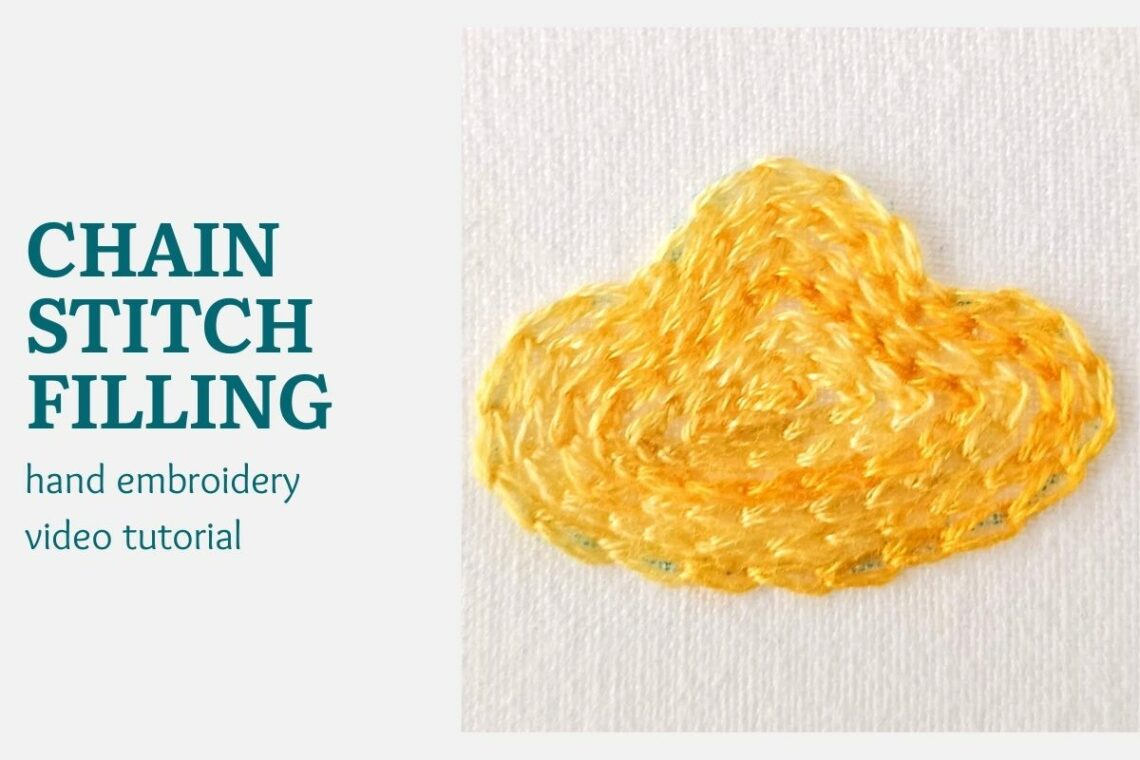 Chain stitch filling video tutorial
Watch this video tutorial and learn how to use a chain stitch to fill extensive areas of your hand embroidery design!
A chain stitch is an embroidery stitch in which a series of looped stitches form a chain-like pattern. Chain stitch is an ancient craft – examples of surviving Chinese chain stitch embroidery dates back to the 5th – 3rd century BC. This simple stitch is very versatile, great for outlining, and also for filling. Chain stitch is very handy when you have to embroider flowing, curvy lines.
To work the chain stitch as a filling, stitch multiple rows close together, spacing them so that no fabric shows between the rows. You can make the rows of stitching all go the same direction or alternate them, so they create a patterned texture.
Watch this video tutorial to learn the Chain stitch filling.
Looking for more filling stitches?
I recommend you read these articles:
You will find more video tutorials in the tab Video tutorials of this Blog.
I add new video tutorials to my channel every week. To get notified when a new video goes live, subscribe to my YouTube channel and click on the bell right beside the button.
Or sign up for my newsletter and be the first to know when I release a new hand embroidery video, DIY tutorial, or blog post!
Looking for a project where you could use the chain stitch filing?
Solar System hand embroidery pdf pattern and instructions, embroidery design with cosmic elements
This hand embroidery design with Solar System cosmic motive in bright sunny colors would perfectly suit the jeans or trousers' back pocket. Also, you can embroider this design on a t-shirt, tote bag, or a string backpack, make a banner, or frame it in a hoop and decorate your children's room.
Get your pdf pattern digital download in the Shop!