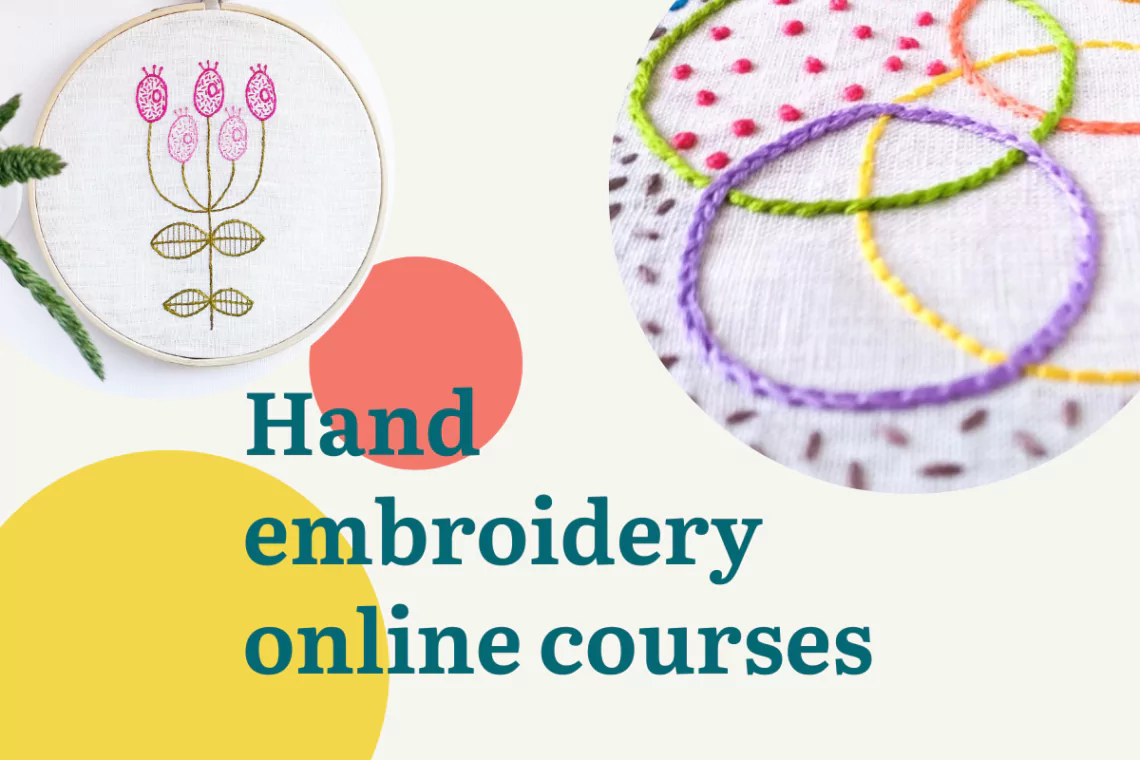 Hand embroidery online courses are the easiest and fastest way to learn hand embroidery at home!
If you cannot attend embroidery school or courses near home, consider learning hand embroidery online!
The Pros of online courses are:
You can choose your time.
Learn in the morning, in the evening, or at night!
Choose your pace. Go as fast or as slow as you wish. Rewatch the same lesson as many times as you need.
Stop and restart when you want.
At the Easy To Make designs hand embroidery school, you can choose from these hand embroidery online courses:
FREE course – The top 10 hand embroidery stitches
The essential stitches you need to start hand embroidering
In this course, you will learn 10 essential stitches that you need to start embroidering. These 10 basic hand embroidery stitches will help you start your hand embroidery journey and lay great foundations for your further learning. With those stitches, you will be capable of embroidering most of the basic patterns and even creating your own ones.
This free course includes:
Downloadable PDF of Sampler Pattern in 2 sizes
Downloadable PDF of Sampler Pattern with stitch indications
Material list
Pattern transfer instructions
Video lesson and text information on how to start and finish to stitch in hand embroidery
Video's and text information about all 10 stitches you will learn
Enroll in this Mini-course and create hand-embroidered Floral hoop art! I designed this simple pattern, detailed instructions, and video lessons to help you learn hand embroidery with ease.
Inside this course, you will find:
A printable pattern
Material list and color guide
Stitch guide with video lessons of all the stitches you will need + tutorial on how to start and finish embroidering
Instructions and video lesson for framing the fabric in the hoop
Instructions and video lesson for pattern transfer
Instructions and video lessons of all the embroidery process step by step
Instructions and video lesson for finishing your embroidery framing it in the hoop
More possibilities to learn hand embroidery with Easy To Make designs:
Choose one of my pdf embroidery patterns with detailed instructions. You will find step-by-step photo instructions of every passage and links to video lessons of every stitch involved.
You will find all hand embroidery patterns available in my SHOP.
Learn new hand embroidery stitches with my video tutorials.
I add new video tutorials to the Blog and my channel every week. To get notified when a new video goes live, subscribe to my YouTube channel and click on the bell right beside the button.
NB. Some of the links may take you to my new Practical Embroidery blog. This is my older hand embroidery blog.
While I'm dedicating all of my energy to the Practical Embroidery blog, this older version still has a lot of great content!