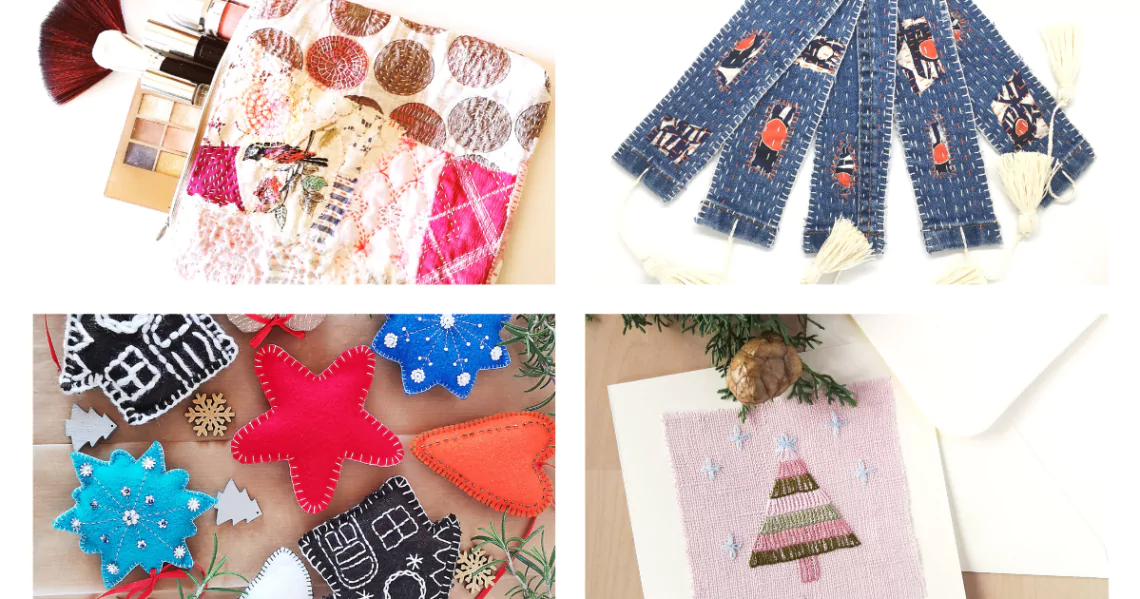 Hand embroidered gift ideas for Christmas
Sure, hand embroidering Christmas gifts takes time, energy, and effort, but that's what makes homemade gifts so special. Anyone can order their gifts online or buy them in the store. And while you can probably find a Christmas present your recipient will love, DIY Christmas goodies just seem to mean a little bit more. Nothing is more personal than a handmade gift.
If you decided you want to dedicate some time and effort, you might question: What can I embroider as a gift?
Here is my list of hand-embroidered gift ideas for Christmas. Read it and choose your favorite.
Pencil case or zipper pouch
The zipper pouch is convenient for organizing cosmetics, craft supplies, pens, pencils, hair accessories, or all those small objects lying around in the house. It would make an excellent gift for any person. You can personalize it by embroidering a name or preferred picture on it. Make it very feminine or vice versa – very masculine by choosing the right fabrics and colors.
This gift will require not only hand embroidery but also some sewing skills. When I make zipper pouches, I like to combine leftover fabric scraps and make abstract embroidery above. 
If you need some inspiration – head to my Pinterest board <Hand bags and zipper pouches>. You will find loads of examples for your inspiration there.

Needlebook or pincushion
Needle book makes a perfect gift for any person who likes sewing, embroidering, or other textile crafts.
You can make a needlebook very elaborate or very simple. Add some thread and needles – and you have a perfect sewing starter kit as a gift!
Embroidered bookmark
If you intend to gift a book, consider adding a hand-embroidered bookmark to it. Every book lover would appreciate it.
You can embroider his/her favorite quote on it or a favorite flower. The choice of shapes and sizes is infinite.
Head to my Pinterest board <Bookmarks> and find some inspiration there.
Christmas tree decorations
If you need a less personal gift – make some hand-embroidered Christmas tree decorations. You can make a set of ornaments or add one to the gift wrapping. 
Head to the Tutorial <Handmade Christmas decorations> in this Blog, download a free pattern, and make some decorations for you and your friends.
Mantel decoration or wall decor hoop art
I like to decorate my home before Christmas, and I think most people like that too. You can embroider and gift a wall decor hoop ar that can be used as a picture to hand on the wall or as mantel decoration.
Like this idea? You will find a range of Christmas pdf hand embroidery patterns in my Etsy shop.
Embroidered greeting card
Every year I make and send some Christmas cards to my family and friends who live abroad. If you want to send some cards to your family and friends too – embroider your cards!
Find the step-by-step instructions on how to embroider and assemble the card in the <Christmas Greetings Card Tutorial>.
Hand embroidered handkerchieves or dish towels
Many families choose to change their daily habits and use more and more textile handkerchieves and dish towels instead of paper ones. If you have friends or family members making this change – embroider and gift them original dishtowels or napkins. You can embroider a simple phrase or a flower on them. 
In my Pinterest board <Embroidery for kitchen>, you will find many ideas on what you could embroider on tea towels or napkins. 
In case you are looking for some simple embroidery patterns – check out my Etsy shop.