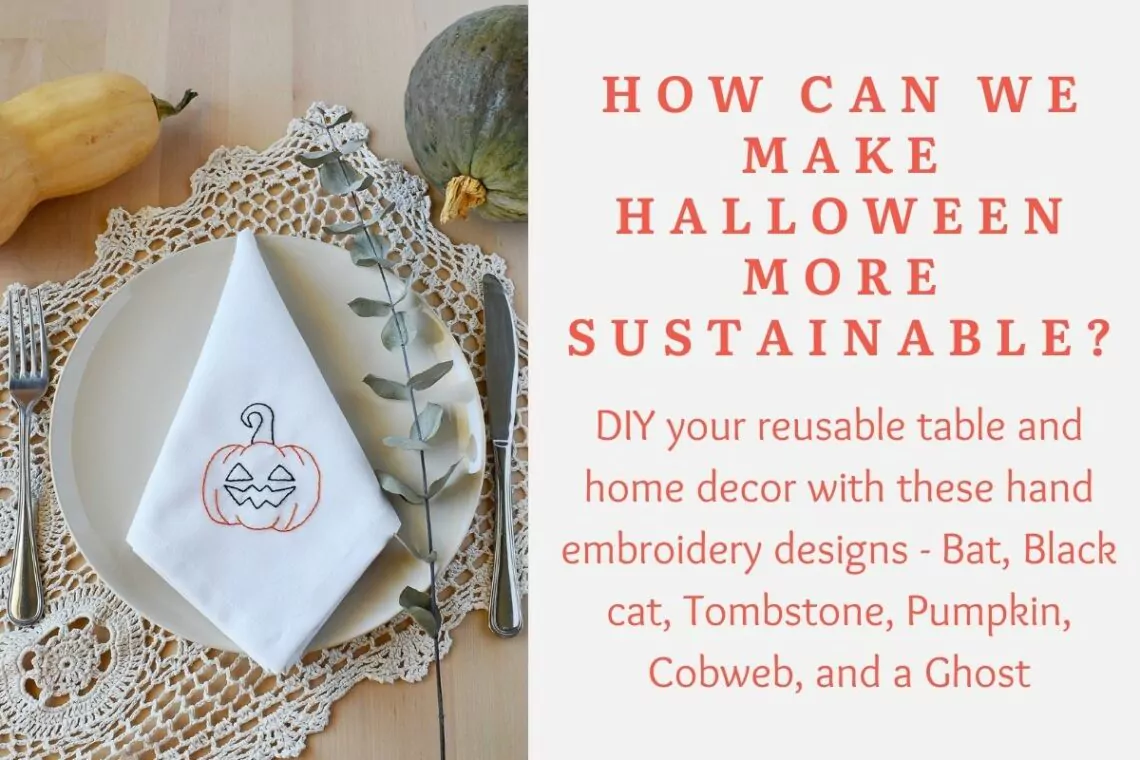 How can we make Halloween more sustainable?
Make Halloween more sustainable!
DIY your reusable table and home decor with these hand embroidery designs – Bat, Black cat, Tombstone, Pumpkin, Cobweb, and a Ghost. 
Halloween is just one month away! It is one of the most festive holidays of the year. Still, there are so many reasons to rethink traditional decorations. Making your own reusable and eco-friendly decorations cuts back on plastic and other harmful materials. So get your house ready for a party with these DIY ideas and patterns! Let's make this Halloween more sustainable together!
Table decor
Please, avoid single-use tableware! To make your Halloween celebration more sustainable, use everyday plates, glasses, and cutleries.  Be creative and create a spooky and festive atmosphere using what you have! Use an old white bedsheet splashed with red paint as a tablecloth and embroidered cloth napkins instead of plastic and paper table decor. Decorate the table with gourds, mini-pumpkins, corn stalks, and other natural materials. Add a bouquet from twigs and some candles.
Home decor
First, check what you already have. One of the fundamental rules of sustainability is to Reuse. So, whenever you can, reuse something you already own. Also, make sure that what you buy can be reused in the future.
Add some home decorations from natural materials. Pumpkins, gourds, mini-pumpkins, and corn stalks are beautiful as they are. Straw and hay bales are great for outdoor decorations. Also, you can make wreaths from twigs and other natural materials.
If you still need some new home decor – recycle. To make Halloween more sustainable, opt for eco-friendly DIYs and use all the materials available at home. I'm sure you will find some glue, paint, cardboard, wool, yarn, mason jars, or tin cans at home. If not, source all the eco-friendly supplies you can. Look for greener alternatives like paper straws, compostable confetti, cellulose film glitter, or organic felt.
Besides, you can use up materials that could be considered trash. For example, use bottle caps, toilet paper rolls, milk bottles, tin cans, fabric scraps, and more for Halloween crafts.
Make Egg carton bats, Bedsheet ghosts, Yarn spider webs, spooky luminaries from tin cans, Apothecary Jars and bottles, Mummy cereal boxes, paper garlands, and bat mobiles. Pinterest is full of creative ideas. Just put 'Eco-Friendly Halloween Ideas' into a search bar and choose from hundreds of projects.
If you can knit or sew, there are some great DIY projects like knitted pumpkins or embroidered fabric buntings. Use up your yarn and fabric stash for these projects and create decorations that will last for many years.
You can choose one of the Halloween hand embroidery patterns available in my Shop or Etsy shop.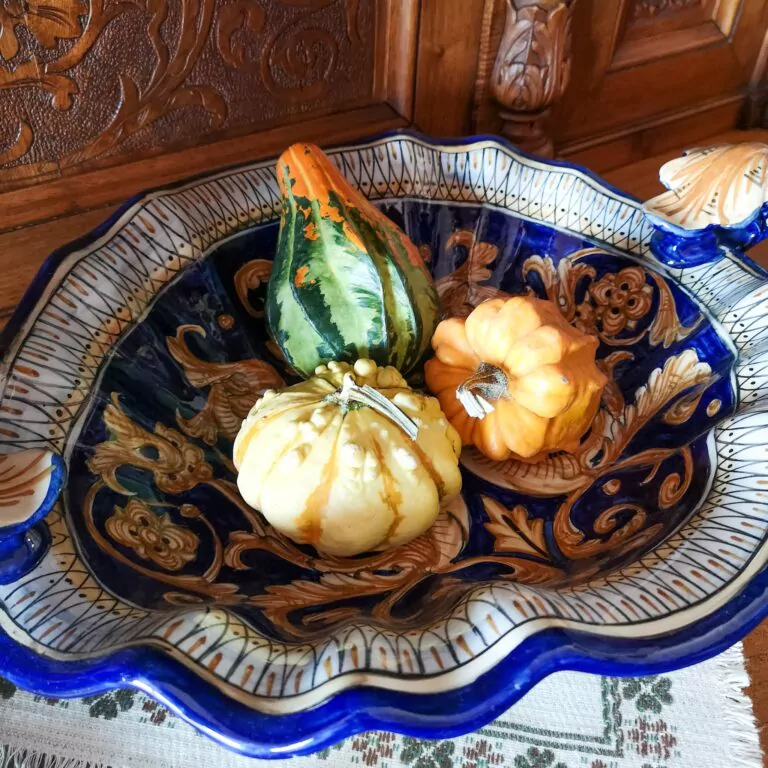 Costumes
There are better and more sustainable options than buying a new plastic costume every year. Consider these possibilities:
DIY your costume from your old clothes, fabric cut-offs, and materials you already have.

Organize a costume swap. What is old for you might look brand new for someone else.

Look for secondhand costumes.
Trick or Treating
For kids, the most exciting part about going trick or treating is filling up their bags with candy. But we all know that nor sugar is suitable for kids, nor plastic candy wrapping is good for nature. 
Opt for Halloween candy alternatives like fruit, trail mix, or granola bars. Also, you can choose eco-friendly Halloween candy with less harmful ingredients and more nature-friendly packaging.
Besides healthier sweets, also opt for reusable treat containers. As an alternative for plastic trick or treat bucket, go for:
Craft paper bag (decorate it with your kid's favorite spooky character);

A drawstring bag or a tote bag. You can decorate these with fabric paint or embroider on them, so you can use them year after year.
About my Halloween hand embroidery designs
Bat, Black cat, Tombstone, Pumpkin, Cobweb, and a Ghost. These six hand embroidery designs with Halloween motives are a great holiday DIY project. 
Embroider these fun and simple images to:
Decorate table cloth, cloth napkins, or table runners and create original and sustainable table decor;

Embellish a T-shirt

Add an extra festive touch to a treat bag 

Make a banner, fabric bunting, or hoop art to decorate your home for Halloween
If you don't feel confident in your hand embroidery skills, do not worry. These patterns are really beginner-friendly! To make things easier, each downloadable embroidery pattern is packed with all the goodies you will need:
Material list

Printable embroidery pattern

Stitch guide (with links to the video tutorials of each stitch you will use)

Color guide

Instructions for pattern transfer

List of embroidery resources – video tutorials and articles

Photo gallery with examples of the patterns
 Some technical information:
The size of each design is about 10 cm (4 inches).

The patterns are written in English.
You can shop for these hand embroidery patterns in my Shop on the Blog or Etsy shop.
After the party is over
When the festive season is over, be sure to clean and put all the decorations you could use into storage boxes again. Mark the boxes so you can easily find everything next year and keep them in a dry, cool place.
If your embroidered decor needs washing, you might be interested in reading this article – 'How to wash hand embroidery.'
Don't forget that many of your natural decorations, like pumpkins, gourds, and corn stalks, are edible. You can make pumpkin puree and freeze it for the future. Then, compost the rest of your natural decorations.
I hope all these tips will help you make Halloween more sustainable. So share them with your friends and family, and let's make a change together!